We use the most up-to-date technology to ensure the best eye care possible.
Optos Retinal Imaging
Optomap retinal imaging is painless, quick and the doctor's preferred method of evaluating the health of your eye for all ages. This technology can be used without dilation to give a widefield view of the retina so it has no visual side effects. Through this digital imaging of the retina, we can observe early changes in the eye relating to glaucoma, cataracts, and macular degeneration. It enhances our ability to detect and monitor retinal defects associated with common systemic diseases such as hypertension, diabetes, high cholesterol, and thyroid problems.
OCT Wellness Scan
OCT is a new, completely painless and highly advanced screening system that checks for potentially serious conditions with the retina including the macula and optic nerve. the oct provides a deep view of the retina and pairs with the optos photos for the most advanced screening for eye disease. this scan is advised for patients age 60 and up and when risk factors are present for glaucoma, diabetes, macular disease, floatersor other eye health disorders.
Dilation
Pupil dilation is when we utilize drops to dilate (open) the pupil so the doctor is able to view the back of the eye to detect eye diseases like macular degeneration and glaucoma. The doctor will also be able to detect other health conditions such as high blood pressure and diabetes. Some side effects from the drops are blurred vision and light sensitivity that can last up to 6 hours.
MISight Myopia Control
Our practiioners are certified Brilliant Futures Myopia Management Program prescribers of MiSight 1 day contact lenses. This is the nation's first FDA-approved contact lens proven to slow the progression of myopia or nearsightedness in children between the ages of 8 and 12 at the initiation of treatment. Kids are spending more time on digital devices and rates of myopia are increasing in children. This treatment program is designed to help improve children's long term eye health.
Here are more tests and equipment you may experience on a visit to our Practice: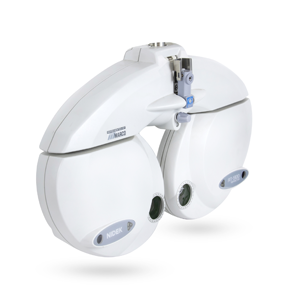 Nidek RT 5100
The RT-5100 fulfills the operators' two dreams: Sophisticated design and comfortable examination. Its stylish design perfectly fits in a small space, providing a quick and accurate exam for both operators and patients. The RT-5100 offers quick and smooth lens changes, allowing the operator to show minute changes of prescription at the touch of a button.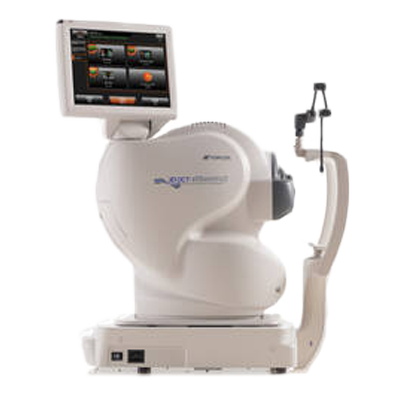 Topcon Maestro 2
OCT technology generates high-resolution, cross-sectional and three-dimensional (3D) images of the retina, optic disc and anterior segment, to give you valuable information that aids in the diagnosis and management of a range of ocular diseases.